Focus
In 2022, the release of the iconic Stan Getz-Eddie Sauter collaboration Focus will mark its 60th anniversary.
The unique stipulations Sauter and Getz put on their collaboration — Sauter's assertion that it feature strings sans-rhythm section and Getz's request that it be completely original works — set Focus on the path of becoming an unprecedented work in the field of jazz.
Sauter was not content simply to give the string players "goose eggs" but opted instead to turn them into a rhythmic engine behind Stan's improvisations. He conceived of Focus as "seven different fairytales...as if Hans Christian Andersen were a musician." The piece hung together as if it were a suite, but the separate movements all had separate themes.
Getz and Sauter had several conversations prior to the recording about whether to give Getz the saxophone parts, a lead sheet with chord changes, or a sketch of what was taking place in the orchestra. The extant parts and manuscripts in the Eddie Sauter Archive at Yale University reveal that for the first movement, Sauter attempted all three methods (melody, chord changes, orchestral sketch). Ultimately, for the remaining six movements, the sketch method was applied on all but one of the other movements, "I Remember When," which contains a clearly written out melody line.
In a Forward to the full score of Focus published by Jazz Lines, Sauter's son Greg recalls his father's composition process for the piece.
When my father started the actual composition process, I can remember being summoned from time to time to listen to a little tune or other idea he had come up with. My typical reaction was "go with it." I might also have asked something like, "What are you going to do with this?" Somehow, talking about these initial musical thoughts helped him get his bearings and gave him a sense of direction.

I remember also that, in discussing composition, he would always say "You should always try to have three things going at once," meaning three principal lines. This doesn't mean that they should all have a constant presence; they can start and stop, and recede and reemerge. In Focus I hear Stan Getz's part as a third line, filling the "hole" that my father deliberately left for him. That part, in my judgment, is integral to the pieces in the suite and they would be incomplete without it.

My father always did a lot of listening and would make his own score reductions. I would frequently find him poring over something by Bartók, Prokoviev, or Stravinsky, for example. It is most likely that he learned the idiosyncrasies of string writing from these sources. In fact, in I'm Late, I'm Late, you can hear echoes of the second movement from Bartók's Music for Strings, Percussion, and Celesta.
There's also been ongoing debate about which tracks of Focus Stan Getz performed live and which tracks were overdubbed. When one listens to Getz's recording of Focus, however, one thing is quite clear: whether or not the performer recorded the piece live or overdubbed, he was well aware of where Sauter had left holes for him in the music. At no point during the entire thirty-three minutes of music does Getz obscure Sauter's writing, allowing all melodies to come through.
Focus was nominated for a Grammy in 1963.
Sixty years later, "Focus can stand as one of the truly rare instances where elements of jazz and classical music converge to create a sound that defies categorization." (Alex Chilowicz)
The seven sections of Focus are:
1. "I'm Late, I'm Late" received its title from the song sung by the white rabbit on its way to the tea party in Disney's Alice in Wonderland. It's the only track that features another jazz player, Roy Haynes, playing brushes alongside Getz and the strings. The eight-minute recording on the original issue is in fact two takes of the piece by Getz combined back-to-back with some clever editing.
2. "Her" (featured below) opens with beautiful string harmonics and sparse movement of the celesta and harp behind the high pedal of strings. Throughout the slow ballad, the melody undergoes some beautiful harmonic transformation with bits of more common "jazz" harmony (i.e., a iii-VI-ii-V7 turn-around) thrown in. The track was dedicated to Getz's mother who passed away during the session.
3. "Pan" is written in 6/4 time and has an agitated waltz-like opening, before expanding to a much broader, calmer development section and finally returning to the opening mood in the end.
4. "I Remember When" provides yet another ballad for Getz to showcase his airy tone. Here, Stan sticks to the written-out melody quite closely on the recording, filling in on longer notes as he would any ballad.
5. "Night Rider" which was actually the first piece in Sauter's score, reveals Sauter's ability to turn the string section into a driving mechanism with rhythmic propulsion. The effect that Sauter draws out of the string ensemble on this movement is one of incredible energy and force.
6. "Once Upon a Time," a 12/8 work of varying complexions, offers yet another insight into Sauter's mastery of strings.
7. "A Summer Afternoon," which closes out Focus, seems to be Sauter's least exciting effort and a slightly disappointing end to an otherwise exhilarating work.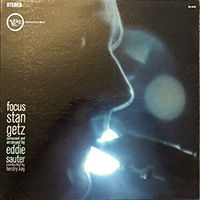 Recommended: Listen on headphones or external speakers.
Focus, released Jan. 1962
"Her"
"Night Rider"
See Music Analysis for "Night Rider"
THE FOCUS ORCHESTRA
Any sources listing the musicians who worked on Focus are scanty at best. None are listed on the LP. It is unlikely that the union calls from the 1960s would be available more than a half-century later, so it remains difficult to acknowledge the stellar band that brought Focus alive for Getz.
The following players have been listed both by Alex Chilowicz and Nicholas Churchill in "Stan Getz: An Annotated Bibliography and Filmography, with Song and Session Information for Albums". Greg Sauter amended the listing recalling Hank Jones on piano and Homer Mensch on bass.
Stan Getz (tenor sax); Gerald Tarack, Alan Martin (violin) Jacob Glick (viola) Bruce Rogers (cello) – known as Beaux Arts String Ensemble; John Neves (bass); Roy Haynes (drums, "I'm Late"); plus piano (attributed to Steve Kuhn); Hershy Kay (conductor); Eddie Sauter (composer, arranger), Ray Hall (engineer); Creed Taylor (producer).
The Jazz Lines' full score of Focus mentions the following:
"In his 1980 Jazz Oral History Project interview with Bill Kirchner, Eddie Sauter specified this ideal string combination: 16 violins, 8 violas, 8 cellos, and 4 basses."
Regarding the actual recording sessions, Greg Sauter, who attended some of them, reports that the string combination consisted of eight violins, four violas, two cellos, and a bass together with harp and percussion.
"Nobody ever arranged for Getz as well as this, and Sauter's luminous and shimmering scores continue to bewitch." — The Penguin Guide to Jazz
"The value of Focus is that it was the first piece to give strings the truly rhythmic impetus that lies at the heart of jazz." — Chris Sheridan (author and journalist)
"Eddie Sauter was simply writing a piece of music for Stan Getz, a masterpiece sui generis that stands outside all received notions about how jazz and classical music might be fused." — Terry Teachout (author of Pops: A Life of Louis Armstrong)